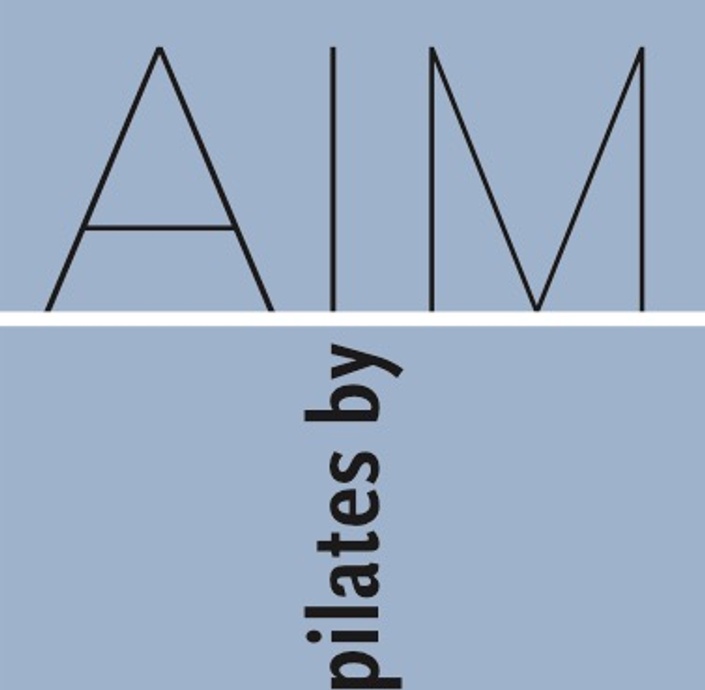 APPLY: Pilates by AIM Level 1 Online Group 3 - begins Fall, 2019
Workbook 1: A Somatic Movement Approach to the work of Joseph H. Pilates utilizing the Amend Integrative Model, by Carole Amend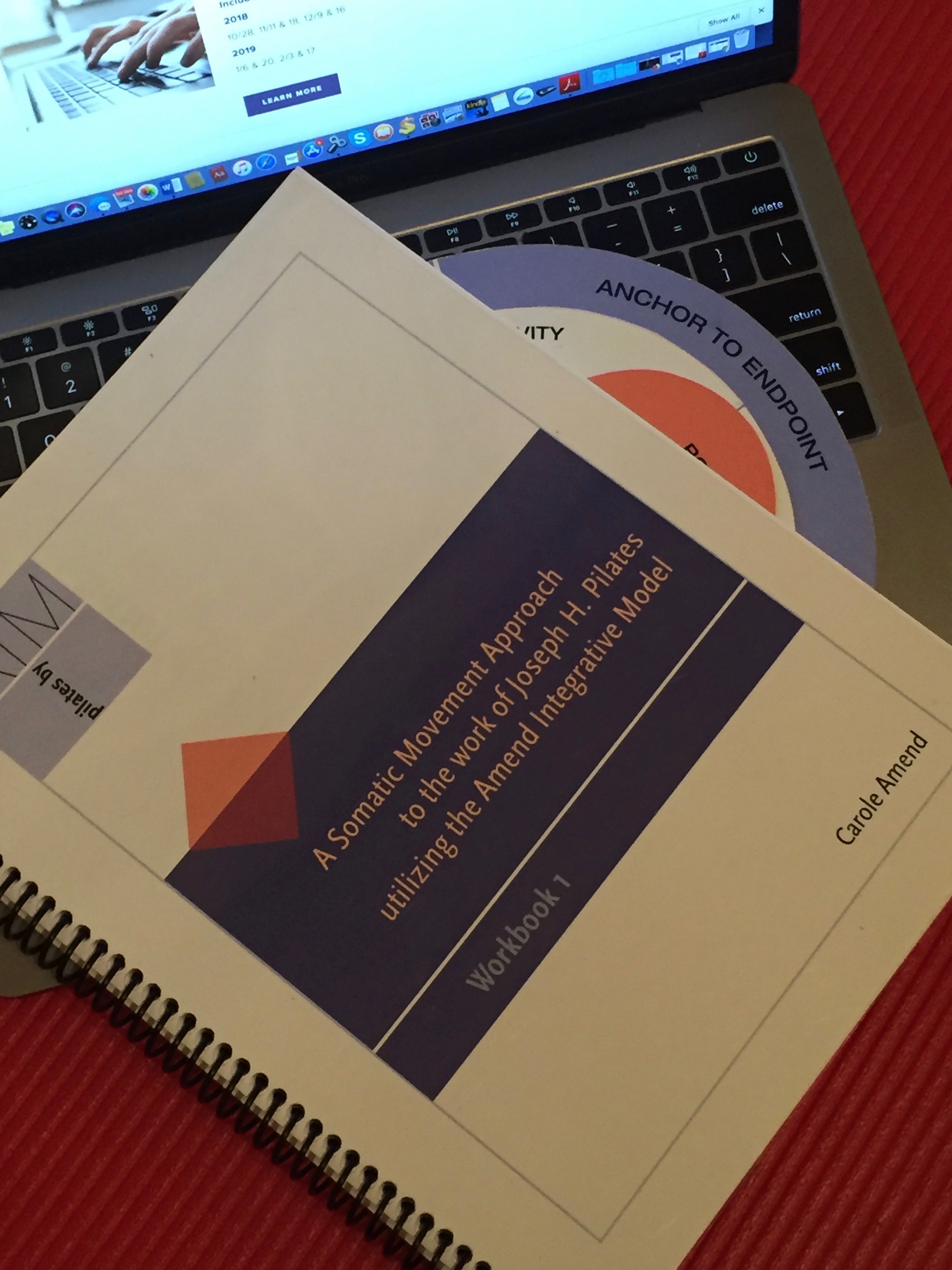 Welcome!
Finally...
a common language for the pilates profession and beyond! Our groundbreaking curriculum offers validation, support, and community to advance your movement practice career!
At this time, we are accepting pilates professionals with a minimum of 5 years work experience. To Apply, please see the APPLICATION/ENROLLMENT FAQ below.


Click on the Sign Up button above to subscribe to Bodies Mind® Academy. We look forward to connecting with you!

LEVEL 1 ONLINE CURRICULUM

The focus of this Bodies Mind® Academy (BMA) Curriculum is on movement analysis, mental conditioning, verbal communication, and professional camaraderie. Our unprecedented, in-depth analysis of spinal cueing in pilates is a major focus; our theory has rendered current discussions perpetuating the flat back vs. neutral controversy obsolete. Our novel terms and definitions set your mind on a new path, distinguishing pilates and somatic movement practice in relation to other movement and bodywork disciplines. You will come away with a complete guide to new tools for integrating safe, sound, and spontaneous mental conditioning concepts and cues towards excellence in your physical conditioning practice and teaching of the original pilates mat exercises and beyond!
WHAT'S INCLUDED
• The Bodies Mind® Academy Pilates by AIM Workbook 1
(65 pages)
• 9 2-hr recorded Zoom Meetings:
(8 trainings sessions and 1 debrief)
• 1 Online tutorial with Carole
• Video Library
• Additional articles
• Assignments
• Test-out
• Ongoing Online Forum for BMA students and graduates

Content
Four Courses comprise this 50-hr Online Curriculum over a 16 week period.
Workbook 1:
• From Anchor to Endpoint
• Timing and Rhythm
• Tension and Relaxation
• Theory and Practice Review

Agenda
You will receive weekly videos and written assignments. During the nine meetings, the Workbook will be explored, explained, and discussed through embodied conversation.
The BMA Forum offers ongoing, in-depth discussions and resources to support colleague connection beyond the meetings.
CERTIFICATE

Level 1 Online is pre-requisite for Level 1 Onsite (115 hrs in total).
Completion of both the BMA Online & Onsite Curricula earns a Bodies Mind® Level1 Associate Title.

Completion requirements
18 hours Zoom Meetings*
15 hours practice (Self & Online Mat classes)
15 hours practice teaching
1-hr Tutorial with Carole
1-hr Online Test-out w/ Carole
[Expect 3-4 hrs/week commitment total, with written assignments]
*Attendance at all meetings is required to Test-out; you can make up missed meetings when a new group begins.
Advancement:
Level 1 Online…prepares you for…Level 1 Onsite
Consistent practice of the integrated, dynamic body-mind skillsets prepares you to meet the challenge of the Level 1 Onsite Curriculum, which focuses in on precision in pilates physical conditioning, hands-on assistance, the use of our signature Pilates by AIM teaching tools, and finally ~the reason why BMA exists~ the teacher-client relationship.
Then on to Level 2…
Completion of Levels 1 & 2(Apparatus) earns a Bodies Mind® Level2 Associate Title.
Further Advancement Opportunities...
After Level 1 completion, join the Bodies Mind® Tutor team!
And for those who want to go the distance, enroll in the Bodies Mind® Somatic Movement Educator Curriculum (open to multidisciplinary movement practice professionals).
Logistics
Get the Workbook.
You'll receive the Workbook once you register and submit payment. Please allow ample time for snail mail delivery.
Check your Time Zone.
Zoom Meetings are, at this time, scheduled for 9-11am PST (12pm EST, 5pm CET, 7pm SAST, etc.). Please let us know if this does not work for you!
Join the Zoom meetings.
• You'll receive an invitation by email with a link to join the Zoom Meeting.
• To participate, you will need to allow us to audio and video record the session; however, you may choose to remain on audio only during the session, if you prefer.
• Access the meetings through computer, laptop, or tablet with working microphone and speaker. Desktop or Laptop is recommended.



Your Instructor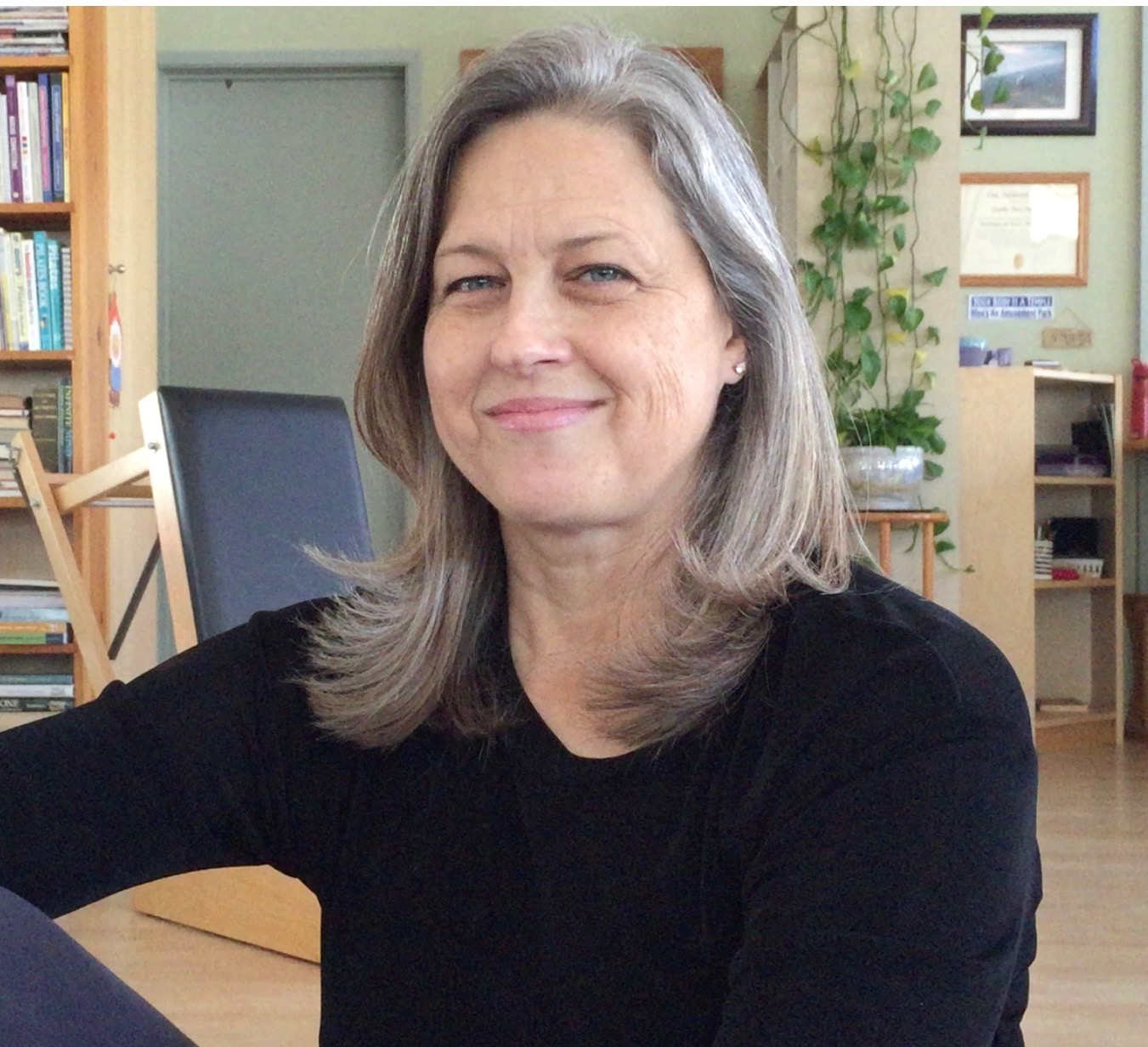 Carole Amend, Somatic Movement Educator & Pilates Specialist, began her pilates journey in 1981 with Carola Trier in New York City. A graduate of the Juilliard Dance Division, she has owned and operated her own studio in Marin County, CA, since 1992, and is now more excited about the method than ever. Well-versed in hands-on somatic techniques, her credo is "the best bodywork is your own balanced dynamic movement." She enjoys focusing in on exactly what the individual needs in the moment to create lasting body-mind balance and the "spontaneous zest and pleasure" that a commitment to pilates practice brings. Carole is pleased to present this time-tested curriculum and to invite you to join the AIM Conversation and the Bodies Mind® Academy community of dialogue. For more information on Carole's background, please visit the Bodies Mind® website.
Course Curriculum
From Anchor to Endpoint
Available in days
days after you enroll
Timing/Rhythm
Available in days
days after you enroll
Tension/Relaxation
Available in days
days after you enroll
Frequently Asked Questions
When does the course start and finish?
We are now accepting applications! The course begins September 22, 2019 will run 16 weeks. Once you are enrolled, you will also be welcomed as a member of the BMA Forum. Follow along at your own pace; the group meets every few weeks in Zoom Meetings. This unique Course Format repeats in cycles to deepen your process and develop our community of dialogue. While the Course Content stays the same...the AIM Conversation continues!
What is the investment?
The Level 1 Online Curriculum is $575 in total. ($500 plus $75 for course materials and transaction fees; price subject to increase, so apply asap!) When payment has been received and Workbook 1 has been mailed, you will be enrolled in the curriculum and welcomed as a member of the BMA Forum. Please NOTE: When the Course "ends", you will be automatically enrolled, at no further cost, in every subsequent group of this Level 1 Online Curriculum.
Can I join after a Group has began?
Yes! As a new Level 1 Online member, you may join a group before the third Zoom meeting begins. After that, newcomers need to wait until the next group begins.
What is the cancellation policy?
You may cancel your spot in the course up until 14 days prior, or before the Workbook has been mailed, to receive a full refund. If you join after a Group has begun, there will be no refunds.
How long do I have access to the course?
How does lifetime access sound? After enrolling, you have unlimited access to this course (and the BMA Forum) for as long as you like - across any and all devices you own. And remember, this Course is ONGOING...so, you'll automatically become a member of all future Level 1 Online Groups.
APPLICATION/ENROLLMENT PROCESS
APPLICATION At this time, only Comprehensively-trained Pilates Professionals with a minimum of 5 years teaching experience may apply for entry into this Continuing Education Course. To get started, send your contact information (phone, email, website url) and a bit about yourself to
[email protected]
Carole will contact you to schedule a complimentary Consultation Call to discuss your pilates career path and how our groundbreaking curriculum and community of dialogue can support You! ENROLLMENT Once accepted, you'll receive the Teachable Course link to pay the course fee for enrollment. Be safe, sound, and spontaneous! Contact Us today!
This course is closed for enrollment.